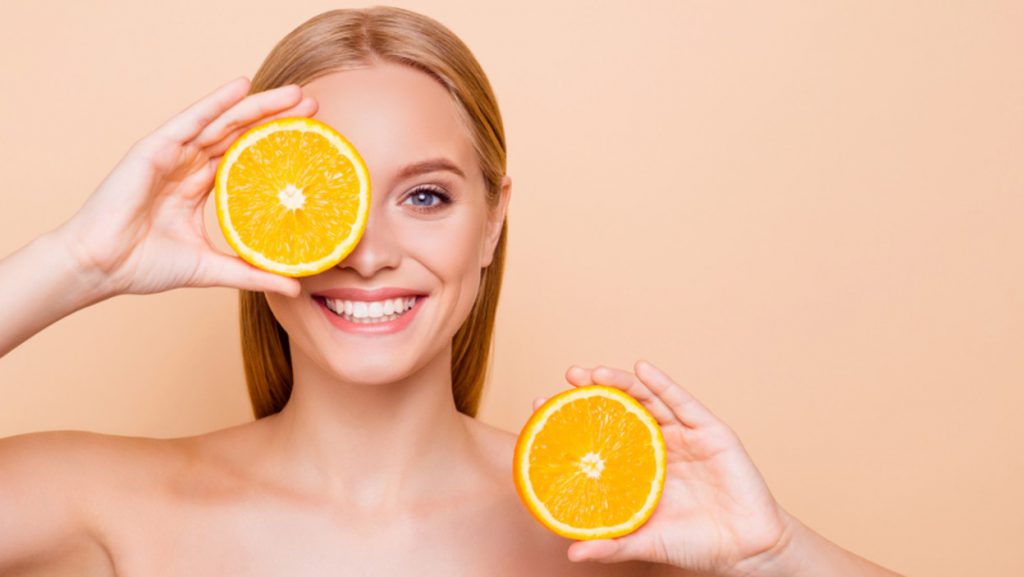 Vitamin C is one of the top desired and most thoroughly tested cosmetic substances. This is one of the most popular ingredients that make us think of lovely, radiant skin. It's great if you use it as soon as in your twenties but it can be used no matter the age, actually. It lessens the visibility of wrinkles and dark spots as well as aids in getting rid of post-acne marks.
What effect does vitamin C produce?
It instantly improves the skin tone and gives an amazing radiance boost, and this is the very reason why we're crazy about it! The effects appear at a blistering pace. Vitamin C has antioxidant properties, creates a great shield against the harmful UV rays, plus enhances the synthesis of collagen that we're running out of with age. This powerful vitamin makes face lines less noticeable, plumps up the skin and improves the elasticity. Extra benefits: it speeds up skin healing and brightens dark spots.
If you want more intensive, long-term effects, remember to use vitamin C regularly. It's the acne and reactive skin sufferers' holy grail. If you're bothered by dark under-eye circles, try vit. C!
Which form of vitamin C to pick?
Vitamin C has lots of forms and derivatives while each one has unique features and concentrations. While shopping for the best vitamin C face product, check the form it holds and its concentration.
L-ascorbic acid is the best known form of vitamin C boasting truly high effectiveness. It isn't perfect, though. This form of the acid may cause irritations in sensitive skin. It is also affected by the factors such as temperature, light or oxygen, and in turn breaks down easily. So, when you get such a product, you can't be sure if the vitamin C is still active and effective.
Vitamin C face oil

makes a perfect pick for sensitive, delicate skin. Some skins react to ascorbic acid while the oil form doesn't irritate or exfoliate the skin. Unfortunately, it takes longer to give visible effects.

Ethyl ascorbic acid

is a relatively new, stable form of vitamin C. It's water-soluble and non-irritative. It's also pricier than pure ascorbic acid.
Can you use vitamin C products on a daily basis?
People wrongly believe vitamin C shouldn't be used every day. Feel free to use it on a daily basis. It isn't a sunblock but it surely boosts sun protection.
Ideally, choose a delicate vitamin C face serum and a moisturizer to secure the skin against the harmful effect of UV rays. This is a perfect match to shield the skin throughout the year!