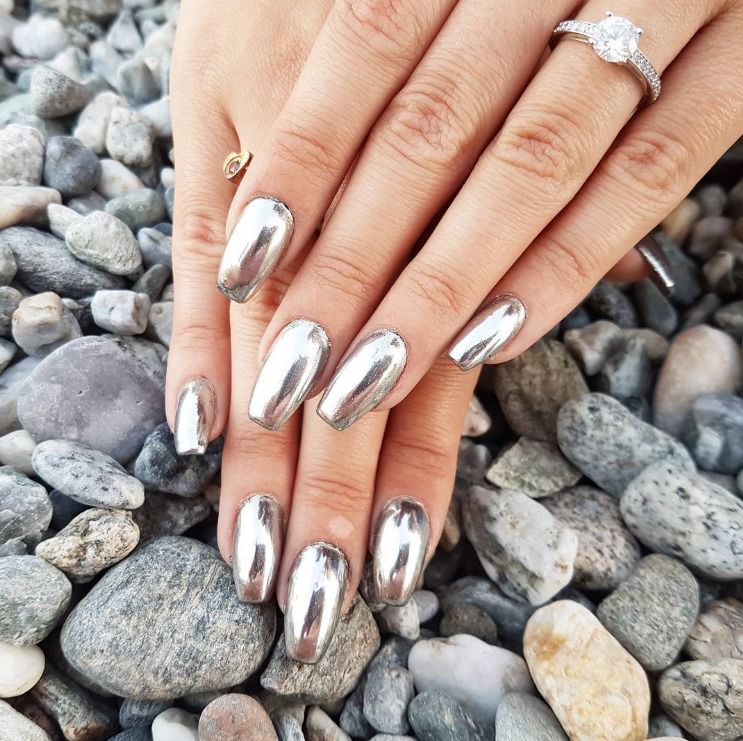 How many ways for successful manicure are there? You will probably say that it's classical French or manicure in nude version. However, trends seem to indicate something quite different. They change several times in a year, and every style holds something temping. In particular #mirrornails!
Trends with leading metallic colours are not that new. For several seasons now, we wear metallic tattoos – for some it is truly irreplaceable decoration. Quite the popularity have also mirrored shoes or mirrored sunglasses "So Real" from Dior, which are true object of desire of many women. There must have come the time for metallic manicure.
The mirror on nails
Metallic nails look just like a mirror. For this reason, in social media you can find it under the #mirrornails. They combine monochromatic, grey classic with shimmering luxury. It is quite extravagant, but elegant solution. You may find it suitable in combination with an office outfit as well as a festival set of clothes.
Where does the #mirrornails trend come from?
As the very first, Karl Lagerfeld presented mirrored manicure on the Chanel runway. In his footsteps followed also other designers (among many Eudon Choi, Kenzo, Reem Acra). On the catwalks, their models have stunned not only with creations they wore, but also shimmering manicure.
The upcoming season is going to be all about #mirrornails, which you can see in the fashion shows of Vivianne Westwood, Creatures of the Wind or Olympia Le-Tan.
How can you perform mirror nails?
When you take a look at the impeccably smooth surface of the mirror nails, you may think it is impossible to do the same at home. Women all around the World take to Instagram pictures with #mirrornails to prove that you can.
There are several ways to achieve effect of mirror on your nails:
The most durable way to execute mirror manicure is with use of metallic powder. Apply e.g. grey nail polish and after it dries rub in the powder till the mirror effect is achieved. The entire thing protect with a top coat.
You can also achieve #mirrornails with use of right nail polish, which provides the mirror effect right away. Depending on the brand, it may be difficult to secure perfect coverage and plain surface without smudges.
Those of you who possess better manual abilities can use stickers or silver foil. The most difficult is to obtain effect of mirror nails with aluminium foil, but it's doable. These methods probably won't provide the ideal effect.