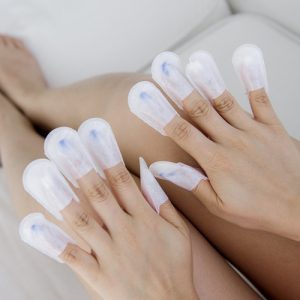 Until now, we have been using face, body and hair masks. However, recently the cosmetic market has been concquered by… nail masks. They are not parrafin based treatment, we all know well from SPA offers. Check yourself what are the properties of such original cosmetics.
Every woman wants to look beautiful, have well-maintained hands and fashionable nail polish colour or pattern. But what to do when the skin around the nail plate looks very unsightly and hand skin is dry and rough? Do not worry, fortunately, there are solutions to such problems. The most popular are: creaming hands every night, wearing special moisturising gloves, scrubs and masks or treatments in the beauty salon with the use of paraffin. In addition, if you want to provide some extra treatment to the skin around your nails, you should choose a special mask.
All masks provide nail moisturising, exfoliating and nourishing effects. They strengthen nails and protect against chemical and mechanical damage, splitting and breaking. Additionally, they add gloss to nails and brighten the skin. Thanks to using such cosmetics systematically, it will be a lot easier for you to remove the cuticles and create a beautiful manicure. Nail Masks contain shea butter, avocado oil, vitamins, proteins and cosmetic oils. What are these products like? Some of them look like gloves. However, most of them resemble decorative overlay on the nails. These material "caps" are saturated with nutrients and active ingredients. Just about 30 minutes is required to fully nurture nail plate and the skin around it.
After conducting the regenerating procedure, you can do the manicure. Remember about the proper preparation of the nail plate. First of all, give it a proper shape and buff it. Use a gentle nail file. If you want to paint your nails a dark colour, be sure to use a colourless base product. It will prolong the durability of the polish and protect the surface from staining. To speed up the drying process, fix and protect the whole manicure from chipping, apply a hardening top coat. Your manicure is ready.