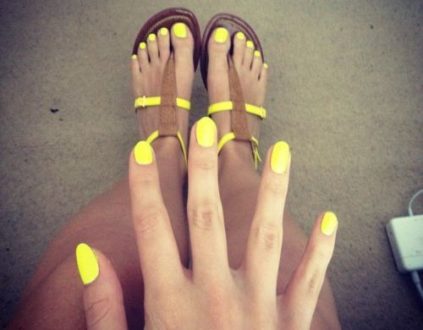 Shade of complexion, event, outfit, or maybe time of year? What does determine look of your pedicure? Some women find colour of their nail enamel and the pattern they wear on nails an extremely important issue. And what would you say to have pedicure that matches your sandals just perfectly? Check out, what colours and patterns go with espadrilles, flip flops and wedges.
This summer's trends is for all flip flops lovers. Plain, chic and with toned, even colour, having no decorations or unnecessary imprints shoes are suitable for any occasion. But what kind of pedicure goes with such shoes? The most appropriate will be classic colours applied on perfectly polished nails. Black, maroon and white – such enamels will be the best choice possible. Equally effectively look nails covered with French pedicure or just coated with a transparent nail enamel. If you decide to choose this very kind of pedicure, then you will obtain elegant and minimalistic look. Two types of pedicure at the same time! Boho sandals, shoes that are decorated with pom-poms and fringes, are also trendy this summer. This kind of footwear do attract attention regardless the shade you apply on your nails. And you can do it two ways. Neon and vivid colours will match such shoes equally well as toned and pastel shades. In this case, the choice is yours.
Espadrilles, they are the real hit of the summer. Incredibly comfortable, a kind of neutral, definitely original. They match all summer stylizations; jeans shorts, safari blouse and sheer dresses. Sole made of jute and linen upper go with nail enamels of autumn shades, like dark purple, maroon or dark green. Young girls like wearing sandals decorated with stones, colourful beds, and crystals. Indeed, such shoes are easy to see from long distances. In this case, use delicate or slightly shining pedicure. What is more, you can make a good use of stickers that imitate gold or silver particles. Suffice it is to apply them to your hybrid and fix with a top coat.
Not only women who are fascinated by ancient history can wear gladiator sandals. If you are good at manicure and pedicure than put on this kind of shoes immediately! Neatly coated nails with white, beige, or light pink enamel will look just great when combined with gladiator sandals. Leather of the shoes and nails coated with toned shades are the perfect match. This year's another fashionable shoes are wedges. This high and thick sole shoes suits intensive and original colours applied to nails. They create very fashionable stylisation together.