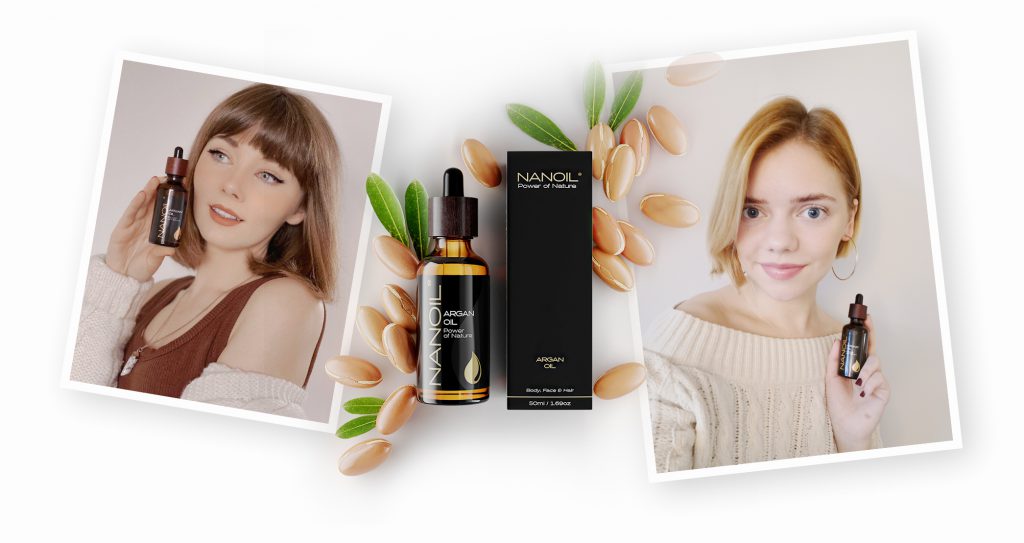 Nanoil Argan Oil – Benefits for Skin. Discover this Iconic Beauty Product!
Various beneficial properties make Nanoil Argan Oil a great product for daily face, body and hair care. It has moisturising, nourishing and anti-ageing properties. It's colourless and odourless. It's an effective antioxidant that soothes inflammation, smooths wrinkles and prevents premature skin ageing. The active ingredients in the composition protect the skin from microorganisms, pollution and ultraviolet rays.
How to use Nanoil Argan Oil in your daily skin care routine?
The oil can be applied directly to the cleansed skin or it can replace your face serum or body lotion. Applied after shaving, it soothes irritation and prevents so-called "strawberry legs". Nanoil Argan Oil is not comedogenic – it doesn't clog pores or cause blemishes. It's light and quickly absorbed and can be used daily – day and night.
After intensive tanning, the oil helps to repair photodamage caused by overexposure to the sun's rays.
When applied to the delicate eye area, it reduces dark circles and the so-called "crow's feet".
The beta-carotene contained in the oil – an orange pigment present e.g. in carrots, provides healthy skin tone and a natural glow. In addition, it prevents blemishes, brightens and minimises discolourations.
Vitamin E, polyphenols and squalene protect the skin from oxidative stress and harmful free radicals, which speed up skin ageing.
Tip: Add a few drops of oil to cosmetics that don't meet your expectations – they don't moisturise or lubricate enough. This way you can boost their effects and provide your skin and hair with additional ingredients.
Nanoil Argan Oil – frequently asked questions
⇾ Who is the oil suitable for? – Nanoil Argan Oil is suitable for all skin and hair types. It's safe for people with allergies, sensitive skin, AD or eczema. It's suitable for vegans and vegetarians (as it contains no animal-derived ingredients and is not tested on animals). It works for people who don't like greasy and heavy formulas.
⇾ Can Nanoil Argan Oil be used daily? – Yes. It is the perfect way to provide your skin and hair with a daily dose of valuable ingredients, vitamins and minerals. The oil can be used both day and night.
⇾ Can argan oil be mixed with other oils? – Of course. With Nanoil Argan oil you can create your own oil-based serums and makeup removers and oil blends for hair oil treatment.
⇾ How does argan oil work on hair? – Used for hair oil treatment, Nanoil Argan Oil restores its natural shine and resilience. It strengthens and regenerates the hair from within, providing it with important fatty acids and minerals. Applied to the ends, it prevents breakage and splitting. Applied to the scalp as a rub-on conditioner, it combats hair loss and promotes hair growth.
For more useful info, go to nanoil.us and order your iconic Nanoil argan oil.