If your skin is couperose, hence sensitive, then you know that you can't do much in terms of improving its condition unless you have a good facial serum at home. Without this one simple product, skin seems to be unable to fight back external aggressors that trigger irritation and redness. What's also worth realizing, face serum delivers stronger effects because it penetrates epidermis, reaching deeper, targeting weak capillaries, for example.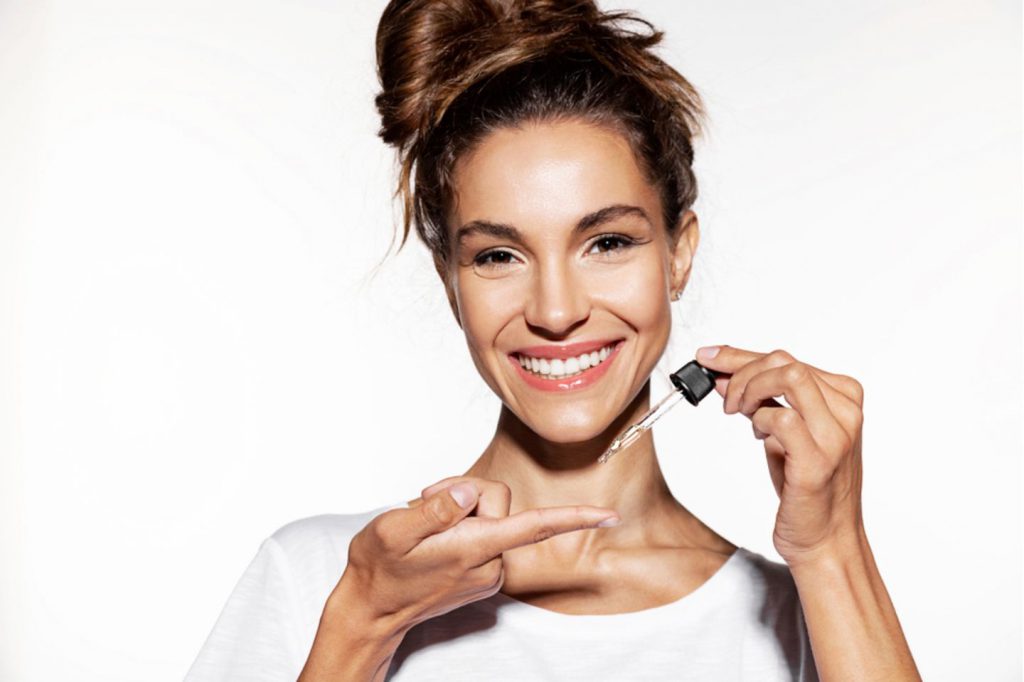 These qualities make it one of the key elements of daily beauty regimen. We know how hard it is to choose a product that would suit couperose skin – after all, it's awfully moody, so-to-say. To make this task easier for you, we've prepared a list of soothing face serums recommended and well-reviewed by regular consumers. Sit back, relax and enjoy the ranking we've made for you and your sensitive skin.
How will you know that a certain face serum is good for you?
The formula of your next serum that handles problematic, reactive skin showing spider veins must be well-thought-out and contain well-selected ingredients of natural origin. In other words, such care product should have no parabens, no artificial ingredients, zero fragrances and other potentially irritating substances.
Instead, it should brim with nutrients that combat all sensitive and couperose skin problems. Put simply, you need to find a product that is proven to free you from spider veins and rosacea, as well as ensure all of the following:
REGENERATE
RELAX
PROTECT
STRENGTHEN
This means that a serum that is good for your easily-irritated skin makes it calm, brighter and strong enough to fight back irritants. You should find a face serum that brings superb and long-lasting results, so you can eat spicy food and drink hot beverages without ending up with blotchy skin.
TOP 7 AMAZING FACE SERUMS FOR SENSITIVE AND COUPEROSE SKIN
1. NANOIL, ANTI-REDNESS FACE SERUM
Let us present to you the best soothing and deeply repairing serum for redness-prone skin. It's proven to bring out promised results. It's recommended by the users from all over the world who recognize it for its excellent formula, low price, lack of parabens and artificial substances. The same users point out that Nanoil Anti-Redness Face Serum offers a few natural and plant-based constituents that do a great job with eliminating the problem of broken capillaries. The formula of the Nanoil serum for couperose skin includes:
Linden tree extract for relieved skin showing no traces of inflammation.
Cypress cone extract for moisturized skin and stronger blood vessels.
Chestnut bark extract for stronger and more elastic blood vessels.
Boerhavia Diffusa root extract for even-toned complexion and delayed ageing.
Nanoil Anti-Redness face serum keeps the skin protected no matter the conditions. It also delivers quick results.
For more information visit –www.nanoil.us
2. EXUVIANCE, ANTIREDNESS CALMING SERUM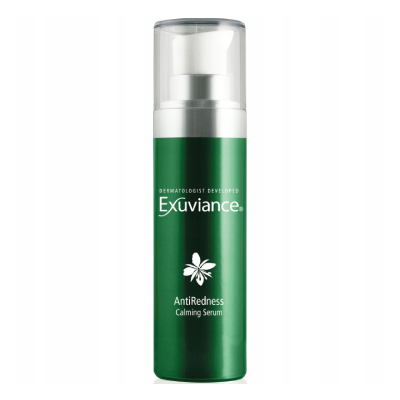 More expensive and smaller, yet equally interesting soothing face serum can be found in Exuciance offer. Their Antiredness Calming Serum belongs to the best-selling care products designed for couperose skin, showing symptoms of rosacea. It's recognized for a number of plant ingredients like this precious extract taken from horse chestnut, sea algae, white tea and licorice that soothe, moisturize and calm reactive skin down.
Antiredness Calming Serum by Exuciance designed for couperose skin also includes caffeine, peptides and zinc. Thanks to such a formula this face serum is good both at reducing inflammation and strengthening the walls of weak blood vessels. This in turn minimizes the risk of spider veins and redness.
3. MEDIK8, CALMIWSE SERUM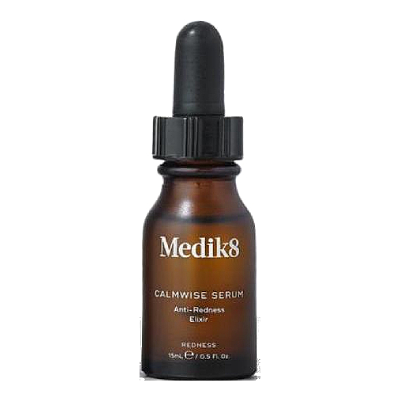 This face serum is widely-recognized among the customers who seek relief. Even though it's able to deliver the promised results, it's not what the sensitive skin owners reach for in the first place. Why? Because the size-price ratio doesn't look profitable. The bottle holds only 15 ml of the product. Still, Medik8 is good at freeing skin from inflammation and can be used even by those struggling with rosacea.
Calmwise Serum soothes reactive skin and erases redness thanks to teprenone – a multi-purpose substance used in cosmetic products. The serum also improves skin's resistance to external factors such as high/low temperatures or air conditioning. The last of the worth mentioning ingredients, sage extract, is antibacterial and prevents blemishes from appearing on the face.
4. KLAPP, IMMUN COUPEROSE SERUM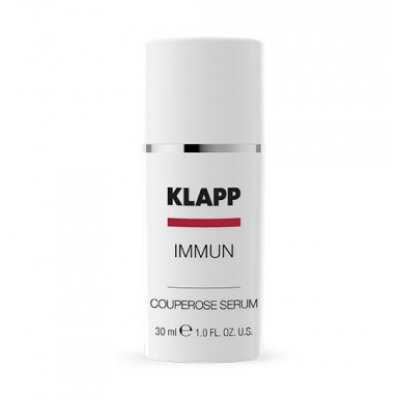 Here is another face serum dedicated to couperose and sensitive skin. Its gentle and deeply nourishing formula is what the users like most. Immun Couperose Serum moisturizes the skin (contains hyaluronic acid) and strengthens the walls of capillaries. It may take up a few weeks of consistent use to get the long-lasting effect of soothed skin, yet it's worth the wait.
Even though Klapp Immun Couperose Skin isn't the cheapest product, it's a relatively popular serum used to soothe couperose skin. Butcher's-broom centella asiatica, calendula, horse chestnut and licorice are four plant-derived ingredients that make this serum so potent, hence top-rated.
5. PURITE, FACE SERUM FOR COUPEROSE SKIN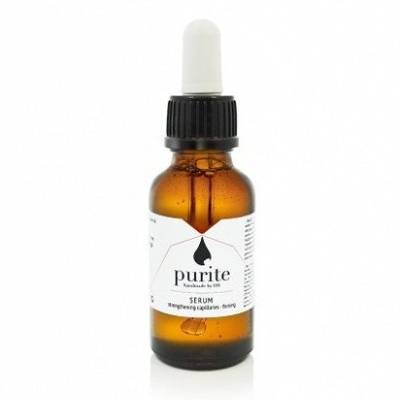 Now it's time for some less expensive option. Purite serum works perfectly for easily-irritated complexions. It's also proven to be good for mature skin. This is another product containing natural plant extracts and oils, which means that it's able to soothe reactive skin.
It moisturizes the skin and minimizes the problem of inflammation. Escin included in the formula seals the capillaries and makes them more elastic. Common rue together with coumarin in turn reduce the risk of spider veins and redness. Calendula delivers nutrients and fights inflammation.
6. NOREL, SENSITIVE FACIAL SERUM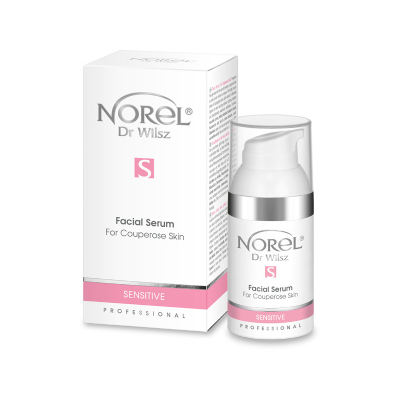 This product is dedicated to those who favor gel formulas. It banishes irritation, brightens redness and frees the skin from discomfort caused by the feeling of tightness and burning sensation. When used regularly, Sensitive Facial Serum is even able to alleviate rosacea and handle swelling that is common for couperose skin.
The good news is that Norel Sensitive Facial Serum isn't the most expensive serum on our list. Even though it does soothe the skin, it may not be a good idea to use for the morning routine. Not only may it prevent face cream from staying on your face but also it may spoil foundation. Nevertheless, it's a good night face serum.
7. LA ROCHE-POSAY, ROSALIC AR INTENSE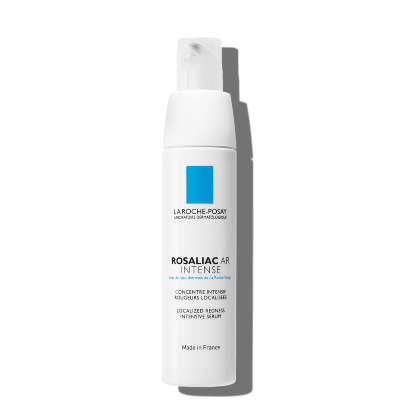 La Roche Posay is a cosmetic brand known for launching a wide collection of cosmetics dealing with various skin problems. One of them, Rosalic AR Intense, offers a special skin treatment to deal with all couperose skin concerns: redness, burning, rosacea. The serum makes skin stronger and more resistant to irritants and spider veins.
Using water as the key ingredient, La Roche-Posay serum is lightweight and gives a pleasant feeling of calm skin that is felt right after application. Although you need to wait a few weeks for the effects, this well-reviewed serum for couperose skin shouldn't disappoint you.