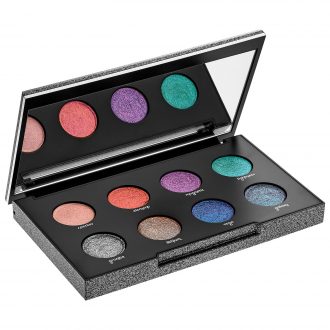 Cosmic make up? Why not?! Such a look is great for a weekend party. However, thanks to Urban Decay's Moondust Eyeshadow, you will aslo create a delicate or romantic make up which is perfect to wear every day. How to do it?
Moondust Eyeshadow is closed in a big rectangular palette. We will find a sizable mirror inside which will surely let us do the make up at work or during a break at university. Urban Decay pallete houses eight shimmering shadows in the following shades: pink (Specter Element), green (Lightyear), violet (Magnetic), brown (Lithium), black (Granite) and blue (Vega Galaxy). The products offer strong pigments thus eye make up will be expressive and the effect will last on our eyelids for more than ten hours. All eyeshadows from Urban Decay palette provide metalic finish of the make up and are dazzlingly sparkly.
How to apply Urban Decay Moondust Eyeshadow? Each of the shadows may be applied both wet or dry. If you want a more intense look, apply the cosmetic with a wet brush and use a dry applicator to rub the cosmetic along the lash line, on the lower eyelid and in the crease of the upper eyelid. To get more dramatic look, use a black pencil or eyeliner to draw a line on the water line of lower and upper eyelids. Urban Decay Moondust Eyeshadows are incredibly durable, they don't fall out and their colour doesn't bleach during the day.
Did you know tha Urban Decay Moondust Eyeshadows contain natural ingredients? What's more, they are perfectly safe for sensitive eyes and skin around the eyes. Among the ingredients we will find: mineral colorants, silicon, talc, mica. These substances absorb excess sebum thus prevent skin from shining and extend the durability of make up. What else would you need?