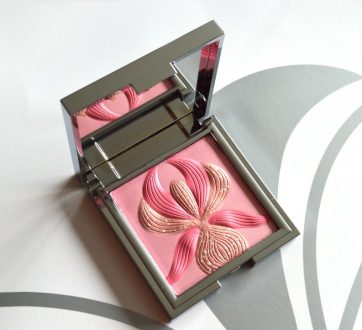 Blusher is one of those irreplaceable cosmetics. If you still do not have it in your cosmetic bag, you have something to regret. Try new blusher L'Orchidee Rose from Sisley and see if you can apply it correctly to look beautiful and fresh.
Blusher L'Orchidee Rose from Sisley is probably one of the prettiest make-up cosmetics. It is so beautiful that, it is a pity to use it. Both packaging and the cosmetic are decorated with the image of water-lily. The flower has colourful petals with shimmering particles. This compact packing was equipped with a mirror for easier make-up outside the home. Only thing lacking is a brush or any other applicator; you can purchase it separately and hide in your cosmetic bag. On top of all that, the metal box protects cosmetic against damages as well as its really handy and light.
Thanks to blusher L'Orchidee Rose from Sisley, your make-up will become subtle and delicate. This cosmetic will perfectly highlight the assets of your face, extract its natural beauty and make you feel exceptional and attractive. Did you know that blusher can replace eye shadows? You just need to skim the skin of your upper eyelids and inner corners with the product. Use for it only fingers or a soft brush. Then, your make-up certainly will be exceptional.
And how to apply blusher L'Orchidee Rose from Sisley? The manufacturer advises to use Sisley Blush Brush – large, with soft bristle and shape adjusted to the cheek bones. To achieve more subtle effect, just skim the cheeks. Did you know that with just one layer of the product you can make your make-up truly beautiful and stunning? What is more, water-lily extract provides skin with smoother, softness and moisture. You can choose out of two shades of the product: pink and orange. Everyone can find something for herself.