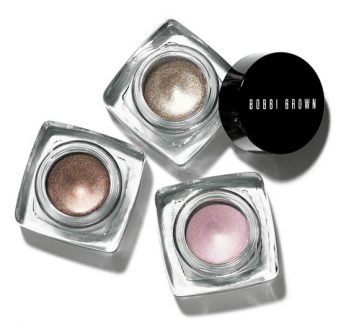 Bobbi Brown has just released new eye shadows, Metallic Long Wear Cream Shadow. In contrast to what you may think, it is not that easy to apply. See for yourself if you can apply those creamy eye shadows.
New eye shadows Metallic Long Wear Cream Shadow from Bobbi Brown contains plenty of shimmering particles, which in a great way highlight the look and optically make eyes bigger. This effect lasts up to 12h, while make-up is resistant to water, sweat and humidity. Furthermore, creamy formula of the cosmetic makes application easier and provides exceptionally long lasting make-up. New Bobbi Brown Metallic Long Wear Cream Shadow is a perfect choice for hot summer days as well as steamy evenings. Application of the creamy cosmetics dedicated for eye make-up is really quick.
Do you know how to apply Bobbi Brown Metallic Long Wear Cream Shadow correctly? For application use small, soft and round brush or the fingertips. Such method allows performance of professional make-up. Remember to start with thin layer of the cosmetic, and only then continue with the another layers for more expressive appearance. Creamy eye shadows are the easiest to apply with the fingertips, however for application in the inner and outer eye corners more helpful will be a brush. Did you know that creamy eye shadows can replace eyeliner? You just have to apply them along the upper and lower lashes line.
Metallic Long Wear Cream Shadow from Bobbi Brown have small jars with 3.5 g of volume. It is available in several shades with metallic glow. You can choose shades of blue, pink and grey. In the gamut of the Long Wear products are also: matte eye shadows, make-up base, shimmering eye shadows, eyeliner, concealers and the stick eye shadows.