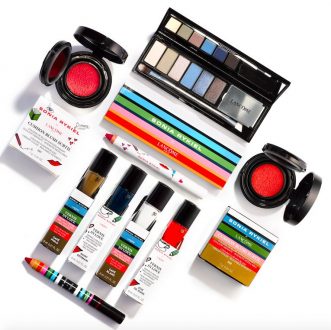 Shortly in cosmetic stores! New cosmetic collection from Lancome and Sonia Rykiel, Colours and Joie de Vivre. Colours and Joy of Life is a new range of cosmetics signed by the amazing duo. World famous brand – Lanocme and a French fashion designer, Sonia Rykiel, created a set of very colourful and charming make-up products. Let us introduce to you to the new collection!
New collection from Lancome and Sonia Rykiel will hit the market in September. You can expect eyeshadow palettes, blushes, lip liners and nail polishes. Additionally, all of the cosmetics are decorated with beautiful illustrations of Andre Saraiva, expressing joy and modernity. The same vision of femininity is promoted by Lancome, which additionally makes the cosmetics of high quality. The campaign was attended by two supermodels, Daria Werbowy and Alma Jodorowsky, and the images were created in the oldest part of Paris, Saint-Germain-des-Prés.
In the Colors and Joie de Vivre collection you encounter two eyeshadow palettes, Maxi Palette. Inside you will find a large mirror and a double applicator. Six shades, one base colour and two darker tones for changing your daily make-up into an evening one. These compact boxes are decorated with a colourful graphics as well as the brand name – Lanocme and the name of the French fashion designer. The same phenomenal look you will see when it comes to blushes. They are available in two shades: Splash Coral and Rose Sorbet. The products are highly pigmented and therefore you must be very careful when applying it with your brush. If you want to achieve a more intense look, simply apply a second, thicker layer of the product on the apples of your cheeks.
Double lip liners called Parisian Lip Crayon, are also the outcome of combined ideas of Lancome and Sonia Rykiel. They will be available in four shades: French Sourire, French Baiser, Spirit and Audace. They have a soft texture, a long lasting colour and are very easy to apply. What is more, Colours and Joie de Vivre collection also offers a wide range of nail polish colours. You can choose from 33 shades, divided into three groups: Jolis Matins (light, powdery and nude-coloured tones), Boudoir Time (energetic colours) and Tonight is My Night (intense colours). Every nail polish from Lancome and Sonia Rykiel is not only extremely durable and resistant to damage but also offers a beautiful and gloss finish to your manicure.