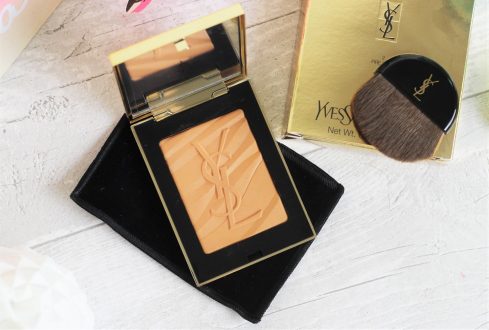 It keeps suntan, contours face shape and adds charm. What is it? It's a new bronzer Yves Saint Laurent Les Sahariennes Bronzing Stones. It will work perfectly in early autumn and whenever you want to feel warm summer days again.
Bronzing powder Les Sahariennes Bronzing Stones is closed in a mirrored compact. To make the application easier and more pleasurable, small and wide Yves Saint Laurent brush will come in handy. Texture of the product – brown and beige stripes – resembles sands of Sahara. Blending the two colours and applying to skin will provide the effect of natural-looking tan. We can choose between three shades: Sunstone (Light), Fire Opal (Medium) and Jasper (Deep). Surely, each of us will pick a suitable colour.
Yves Saint Laurent Les Sahariennes Bronzing Stones bronzer provides make-up with matte finish, works great for face contouring and makes tan last longer. The cosmetic has a light consistency, it is applied to skin smoothly and blends effortlessly with skin colouration and shade of foundation. If you're a fan of so called make-up no make-up, the bronzer will also work very well. It will make your face look like it's only touched by the sun. What's more, the complexion will be slightly lightened, radiant and beautiful.
How to apply Yves Saint Laurent Les Sahariennes Bronzing Stones properly? Use a soft and wide brush to sweep upper cheekbones, the sides of the nose, chin and skin along the hairline. Most sun falls on these parts of face therefore they get chocolate or olive shade fastest. One layer of the bronzer is enough to get a natural tan. Remember that sponges are not suitable for the application of bronzing pressed cosmetics because they would create the mask effect and make face look unaesthetic.