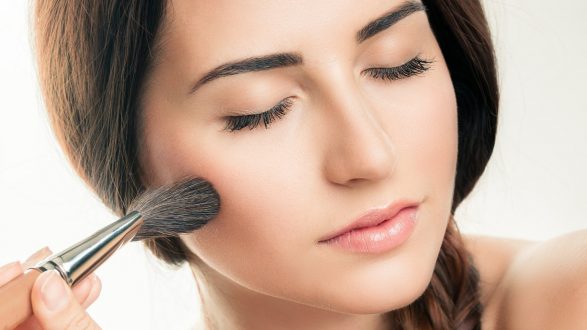 This make-up – in spite of not being too subtle, is a perfect solution for every day. On top of it, this is going to be perfect for days when your skin seems matte, dull and fatigued. Intense accent on cheek bones with help of blusher in deep colour will make your skin seem healthier and the entire face gain expressiveness and fresh appearance.
1. Perform standard face make-up with use of make-up base, foundation and transparent powder. Discipline your eyebrows (perfect for it will be brows wax or special mascara in shade matching colour of your brows).
2. Take brown eye pencil in shade of dark chocolate. Draw with it line on the lower lashes root line; on the outside. Now rub gently the line. For the look to gain depth, apply eye shadow in colour of dark chocolate or – if you do not have one – just colour of dark brown. This trick will allow your lower eyelid make-up to look natural and prevent smudges; the shade must be matte.
3. It is time for the upper eyelid. On the eyelash root line draw line with dark brown eye pencil and rub it the way you did on lower eyelid – i.e. with use of brush with brown matte eye shadow. Try to create effect of colour gradually spreading on the eyelid up to the crease.
If the edges of eye shadow after application are too visible (it is often the case when you have light skin tone), take transparent powder and gently rub the edges with it.
4. Use eyelash curler, apply mascara and cheeks treat with blusher. Remember that blusher cannot have too delicate or too intense colour. You will provide your face with fresh appearance if you apply blusher in a salmon shade.
5. Apply lip gloss in a shade of subtle pink or simple colourless.
Good Luck!