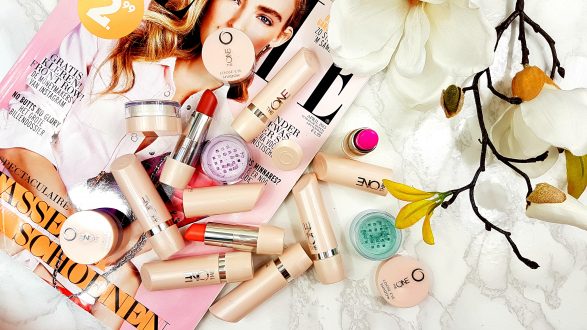 Cosmetics in The One line from Oriflame do not need introductions. These are valued both because their price and great quality as well as friendly and intuitive packagings. Cosmetics in this line are really great to work with. They guarantee great, long lasting make-up with high pigmentation in trendy and original colours.
The One Line expanded lately with beautiful, pastel pink line called Featherlight.
In the line are present among many lipsticks in feminine shades – from subtle pink and coral to juicy mocha and violet.
The sensation here is a mascara equipped with classical wand with dense, soft bristle. It separates every lash and guarantees delicate eyelash make-up. You do not need to worry that mascara will clump your eyelashes. It's perfect for all feminine autumn stylisations.
Absolute hit of this line are eye shadows and blushers containing mineral pigments. These are well pigmented and guarantee long lasting make-up for many hours to come.
Colours of eye shadows have surprisingly deep and wide shade gamut. Thanks to them can be performed both make-up in nude version and delicate make-up with shades of cool mint and subtle violet.
Blushers are present in three surprising and stunning shades, which can provide your make-up with expressive character while your face will become more radiant. The blushers are in loose form and placed in beautiful packagings with protective net for easier application. These have shades of copper brown, ripe smoked peach or dusky pink. Blushers suit all skin complexions. These cosmetics are great complementation of autumn make-up in nude shades.
We loved cool-lilac blusher, eye shadow Taupe Glow, which because its different colour, beautifully combines with pastel shades on the eyelid (mainly mint) and any other natural shade. It will also perfectly work with dark green. Perfect complementation of autumn make-up can be lipstick in shade of dark wine (Mulberry Meringue) and violet shade of fuchsia (Violet Velvet).