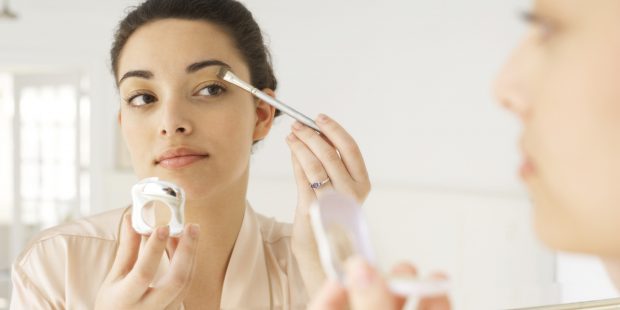 There are a few reliable and easy tricks that will make applying your make-up a lot more pleasant and allow you to look beautiful. If want to save some time in the morning and speed up the process of beautifying your face, learn a few tips and tricks that are commonly used by the most famous make-up artists.
Face contouring has become the most important element of each make-up. All girls know how to do it. However, if you still have troubles applying concealers, bronzers or highlighters, try out this easy trick. Suck in your cheeks and place your lips in a position resembling a fish mouth. The appeared shadow indicates where you should apply the contouring product. Apply it with a soft brush. Make sure to blend it well with the foundation not to leave any stains.
Take care of your eyebrows. Remember that they form a frame to your eyes, beautify your face and make it visually thinner or larger. Properly adjusted eyebrows can really change your appearance and affect how you are perceived by other people. How to choose the proper shape of eyebrows to enhance your features? Eyebrow arch should start in the same line as the alas of the nose, whereas the end should be just above the outer corner of the eye. Do you know how to do a proper eyebrow make-up? To style your eyebrows, use pencils, powders or special brow shadows. Additionally, a clear gel will also be useful. Thanks to it, you will be able to shape the arch without changing its colour. If you are using a brow powder or a pomade, do not forget to purchase a pointed brush. Be sure to draw short dashes imitating eyebrows.
Use shimmering eye shadows. They will be extremely useful to you especially if you have dark circles and puffiness under the eyes, and your skin is dull and lacks radiance. Did you know that shimmering eyeshadows can be used as a highlighter? You can apply them in various places, for example above the upper lip, on the cheekbones, above the eyebrow arch and on the whole upper eyelid. It will not only visually widen your eyes and light up the face but also completely transform your look.
Before you do your lips, apply a tiny amount of make-up base or foundation. This way you will preserve your lipstick or lip gloss. Another, equally interesting solution is to powder already painted lips and blot excess lipstick on a tissue. If you want to add lustre to your lips, simply add a clear lip gloss in their centre. What is more, to protect the skin of your lips from drying, chapping and cracking, is recommended to use cosmetic Vaseline.